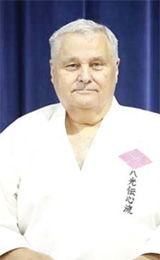 Soke,
I wanted to thank you and Shihan Chris for your visit last weekend. I hope you also enjoyed your trip. Our students that attended Friday's class enjoyed your instruction on waza, henka and weapon defenses. They haven't stopped talking about the different techniques, applications demonstrated, and how effective they were.
I also wanted to thank you for the time you spent with Shihan Evans and I on Saturday. It's not often I get to spend that much time with you. I truly enjoyed the stories you told, particularly of your time in Japan, training under Shodai Soke. The inflection in your voice when telling those stories demonstrates the immense bond you formed with Shodai Soke. I feel honored to have heard these directly from you.
I hope to spend more time like this with you and Shihan Chris in the future.
P.S. You can find photos of your visit last Friday on our website. I also attached my favorite. http://www.koyamadojo.com/koyama-dojo-hosts-soke-lamonica/
Regards, Jason Spirko